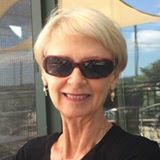 Just one CRUNCH!
And my black prescription sunglasses took the short trip to the dumpster.
"Oh…what about these RED ones I love them!"
"Really they are awfully big on your face, what both these, or these, or these…."
No! It had to be the beautiful BIG RED sunglasses and that was 10 years ago.
I do not think there are more than one or two outdoor photos of me in the last 10 years that the RED glass are not on my face.
They have been through 3 prescription changes and a rather sever motorcycle accident..not a scratch.
VACATION
I brushed my hair back thinking a bug had landed on me only to find a RED arm of my sunglasses had become detached. It was not the simple pin problem. The hinge had come unglued but still an easy superglue fix. A call to the maintenance department of the resort including a healthy tip I had my glasses back in a few hours, with instructions it would be best to let it set over night. Fine maybe he used an epoxy, I will wait till tomorrow to once again wear my beautiful RED sunglasses.
The newly replaced sunglass arm lasted about 10 minutes but the two fingerprints of glue will remain in a landfill for centuries.
Today the beautiful RED sunglasses are taking the short trip to the dumpster.